Welcome to OneYearBibleOnline.com, an online guide for those desiring to read through the Bible in one year.
Daily One Year Readings
Daily Chronological Readings
New Testament In One Year Readings
Download Reading Plans
Navigation Note: Users accessing on mobile, tablet or smaller resolution browsers can access navigation links by clicking the three horizontal bars located in the header.

The default translation version is the New Living Translation (NLT), if you select a different default version you should bookmark the page in order to save the version in the url as your default. Note: Certain languages and editions may not be fully translated.The Apocrypha books are not included in One Year readings.
One Year® Bible Online provides you with the ability to select your own start date. If you started reading on a date other than the traditional January 1st starting date just select your start date on either of the 7 Day Reading pages and we'll display the reading links you are scheduled for.
Be Advised: OneYearBibleOnline.com will never ask for a credit card or any personal information from visitors. If you see this type of request it may be from an advertisement you may have clicked on.
The One Year® Bible daily reading plan consist of passages from the Old Testament, New Testament, Psalms, and Proverbs. This arrangement of Scripture brings variety and a fresh approach to each day's 15-minute reading, while providing a clear understanding of the Bible's larger message. No other "through the bible" plan presents the entire bible in such a user-friendly format. Simply select the month and date to link to the passages for the day.
The One Year® Chronological Bible reading plan contains the entire text of the bible arranged in the order the events actually occurred. This unique viewpoint allows you to read the whole Bible as a single story and to see the unfolding of God's plan in history.
The chronological readings at oneyearbibleonline.com follow the reading plan according to the NLT version. Please note that there are differences between the NLT and NIV translations when it comes to the chronological reading plan. One is copyrighted by Tyndale, the other by Zondervan. One reads according to the timeframes the events actually occurred (NLT) while the other may read according to when the text was actually written. So if you are attempting to complement your chronological NIV book readings with our chronological online version they will not match. Please see this page for details.
Daily online readings are based upon and meant to complement the popular One Year® Bible and One Year® Chronological Bible available from Tyndale House Publishers Inc., using the New Living Translation (NLT). Click here for information on translation comparisons and links to compare text.
One Year Bible Online now provides the Matthew Henry Complete Commentary online.
One Year® Bible OnLine is an outreach of One Year Bible Online and is made possible through BibleGateway.com.
Fear Not Verse Of The Day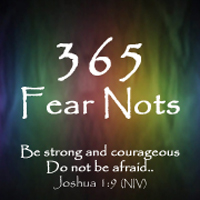 Deuteronomy 01:17
Do not show partiality in judging; hear both small and great alike. Do not be afraid of any man, for judgment belongs to God. Bring me any case too hard for you, and I will hear it.
Deuteronomy 01:17 (NIV)
Biblical Truth: Do not fear others when making righteous choices or decisions, regardless of what others may think or say.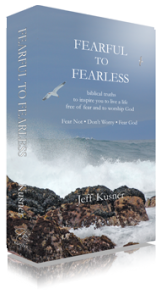 Get The Fear Not Book:
Fearful To Fearless: Fear Not | Don't Worry | Fear God
biblical truths to inspire you to live a life free of fear and to worship God