Welcome to the New Testament Daily Readings from OneYearBibleOnline.com. Allowing you to read through the entire New Testament in as little as 5 minutes each day.
The New Testament daily readings consist of passages from the New Testament portion of The One Year® Bible reading plan.
Be Advised: OneYearBibleOnline.com will never ask for a credit card or any personal information from visitors. If you see this type of request it may be from an advertisement you may have clicked on.
---
Fearful To Fearless brings together almost 400 passages of scripture to demonstrate or direct us to not be afraid, to not worry or be anxious, to look to Christ for strength and comfort, and be transformed to have a worshipful fear and awe of God. Each passage is accompanied by a short biblical truth to help provide clarity and encouragement.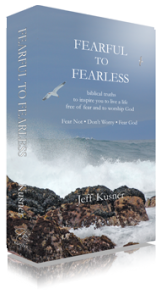 Get The Fear Not Book:
Fearful To Fearless: Fear Not | Don't Worry | Fear God
biblical truths to inspire you to live a life free of fear and to worship God
---
Follow the daily reading link below.
November 28th New Testament Daily Bible Readings
2 PETER 2:1-22

New Testament Audio Reading
New Living Translation©1996, 2004, 2015
by Tyndale House Foundation
November 28th
Note: If you have chosen to begin reading through the New Testament Bible on a date other than January 1st, you can define your own reading schedule at our Build A Custom New Testament Reading Plan page.